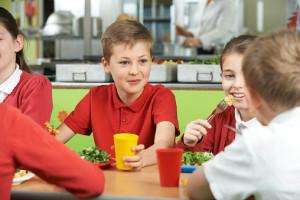 At SportsTyme kids play hard and work up quite the appetite. Most summer camp programs don't offer lunch, and for the past 14 years our camp has been no different; that is until now!  Seminole County Dining Services has kindly offered to provide a free hot breakfast to all our campers attending select locations in Heathrow (Markham Woods Middle School) and Winter Springs (Indian Trails Middle School).
Certified SCPS servers will be cooking up breakfast before the camp-day starts, so be sure to sign up for "Early Drop-off" to take advantage of all this delicious food. Eggs, sausage, fruit, yogurt, cereal; there will be something for everyone.
Hot lunches will also be provided and the menu will include things like salad, subs, burgers, chicken sandwiches and other healthy options that are free of antibiotics, hormones, or steroids. Nothing fake here! Menus are not available beforehand, but you can visit Seminole County Dining Services online to view their past menus at http://diningservices.scps.us
For those with sensitive palates or food allergies:
Food is served in a buffet format; so make sure your Director knows if your camper has a sensitive food allergy.
Meals are available four days during the week:
This free meal service will be available Monday-Thursday for the whole summer. Remember to pack your own snacks and always bring a water bottle so your camper can hydrate at one of our cooling stations throughout the day. Friday's are still Pizza Day, so bring $5 and lunch will be provided by one of our local pizzerias. Depending on parent feedback we will look into expanding this service to other camp locations in the future. In the meantime, we look forward to making your summers even more hassle-free!
Current news and views:
The child protection improvements act was introduced into congress this past December of 2015. This bill will enable our camp administrators to access federal criminal background checks. This will provide us with crucial information as we consider new hires to include camp counselors, volunteers and others.
We wish all of our campers a sweet Valentines Day ahead.